We are all eager for news on NX. I've already started the countdown to April 27th since before knowing the exact date of the upcoming Financial Results meeting. No, that's a joke, because I've started the countdown since March 2015, when Iwata mentioned it. Blue balls as a way to live. Ok, let's stop with the hyperboles (…sort of), but seriously, I'm so both interested and scared by knowing more about what's next for Nintendo, the new idea that detaches itself from the Wii U / 3DS philosophy era, the fresh start, and I'm sure I'm not alone. But, just ten days ago, we got something NX-related, in our own hands, after all. Just remember what Iwata said back in March 2015
https://www.nintendo.co.jp/corporate/release/en/2015/150317/03.html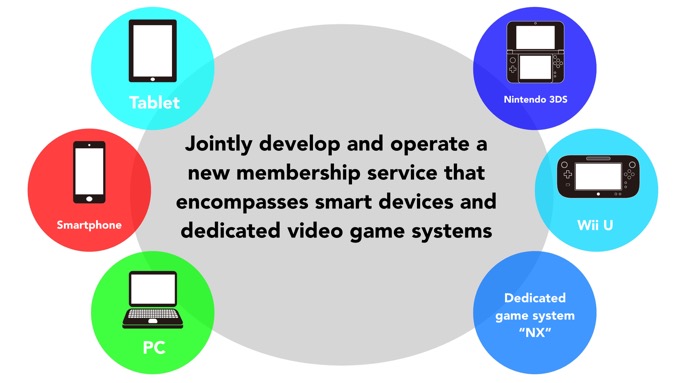 Iwata:

Nintendo, together with DeNA, will jointly develop a new membership service which encompasses the existing Nintendo 3DS and Wii U systems, the new hardware system with a brand-new concept, NX, and smart devices and PCs, and Nintendo will be the primary party to operate this new membership service. Unlike the Club Nintendo membership service that Nintendo has been operating, the new membership service will include multiple devices and create a connection between Nintendo and each individual consumer regardless of the device the consumer uses. This membership will form one of the core elements of the new Nintendo platform that I just mentioned.
The membership service as one of the core elements of NX. We had a delay, features outlined in subsequent shareholders' meetings, a "beta version" in Japan, and earlier release in Japan too, but finally it's here in the West as well. MyNintendo is a thing!
And here's my (flying, of course…and sort-of analytical) thoughts about it as a whole in its current state.
First of all, let's talk about the most important element of the new MyNintendo memebership system.
Holy shit is this logo so good. It's pristine marketing genius. It represents the classic Nintendo tradition, the Club Nintendo legacy (did you all forget Club Nintendo's logo already?), and its design resembles a cloud, which fits since MyNintendo will offer cloud services in the future. And there's the head of Mr. Game & Watch hidden in the design; who cares if unintentionally, there's more lore here than in all Souls games combined.
Also, it's so simple, it's literally something you can draw easily with one single trait, no need to lift your pencil from the paper where you're drawing it. Charming, easy to remember while having different meanings. Whoever had the idea of this logo should be taken seriously from Nintendo, while asking him / her if the hidden Mr. Game & Watch's head was intentional. We need to know.
Now, time to talk about the site and the service itself.
First, the basics of the service (for now). MyNintendo features a point-based reward system, with two different currencies: Platinum (Miitomo points are a subspecies of Platinum), that are gained by using Nintendo web pages and services and by playing the mobile apps; and Gold, that are gained by buying the games on the eShop or on Nintendo's official site. With them, you can get themes, costumes, discounts on games and games. Also, you get "Just for you" advices: special, person-tailored notifications of new / recent releases and special discounts, just based on the games you bought (yep, there's a complete purchase list, you can access it from your Nintendo Account page) and birthday special discounts. So, something pretty cool in theory, but how's it executed?
Well, the website is strictly connected to the execution to the service itself, time to analyse it a bit. I'm fairly happy to say that it looks clean, with clear images and options, with a fluid design that, maybe, shines even more on mobile. But it's not just the clearness, because it's not sterile. No, MyNintendo goes all out with the "gamification" of the service. By "gamification", it's usually meant the implementation of gaming-like elements in non-gaming services to engage users to use them. MyNintendo is a Nintendo service, and it embraces the game nature. For example, points are gained through achievements. Yeah, I know it sounds strange…Nintendo and achievements? Really? Actually, they're not exactly achievements, but quite similar. They're called "missions": specific actions on Nintendo pages, how many Gold points you gain by buying a game in a specific price-range, and Miitomo-specific missions, that can be done daily. Other missions are a one-time deal, or weekly. This is a fun way to give to users the involvement to visit the site, to feel engaged with the new membership system. Some of the missions are actually hidden, and pretty fun, more like easter eggs. One of them (weekly) is to click / tap on a point just outside one of the containers, to verify the weekly check for connecting to MyNintendo.com, while the other is a one-time affair, but neat: click on the classic Mario block at the bottom of the page, then you'll find your Mii has a present; just click ten times on it, and you obtain 10 Platinum points.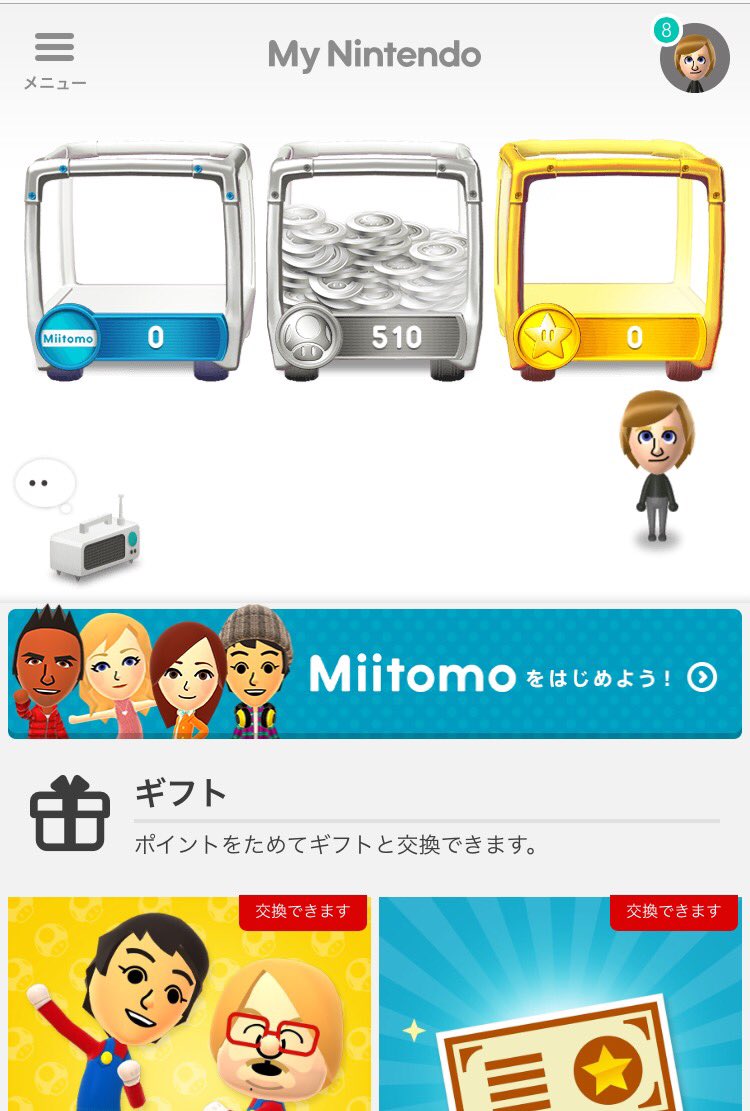 Ah, right, how points are displayed, almost forgot! You see three containers, for Platinum, Miitomo and Gold points. And your Mii standing there, with a radio on the left: by turning it on / off, it sets the volume of your Mii steps or reactions when you click or tap on it. Yeah, MyNintendo.com is filled with little neat details and several elements that distinguish it from a classic website…the service really feels like something that might lead to fun, even just by interacting with it. The main page displays also some of the missions and some of the awards that can be obtained by exchanging them with points.
Also, on the right, there's a pop up menu specific for MyNintendo, with other options, like the ability to see a chronological recap of the points you obtained, the notifications Nintendo send to you, and some explanation about MyNintendo itself and the points; all normal stuff, well organised and non intrusive for the use of the site by being a pop up menu. The same goes for the Nintendo Account pop up menu, which appears by clicking on the Mii's avatar on the top right.
Points are officially claimed by clicking on the respective mission once you cleared it, and it works pretty flawlessly, with nice animations as well. Even more flawless is the points' gain on Miitomo, where you directly receive the message, and coins will be displayed immediately on MyNintendo.com once you reload the page.
The site, to be honest, offers a small but useful tutorial, with a strange condition, i.e. you must buy one of the containers for 50 Platinum points. I get it, you want first-time users to get more accustomed to the concept of using their points, but 50 seems too much for a tutorial. You recover those 50 points quickly enough, but I think that a 10-Platinum-points purchase would've done the job in the same way while not feeling unnecessairly "expensive".
Now that I think about the process to get the points, one of the things I appreciate the most is how the surveys are gone. I think many of you who were Club Nintendo members remember how tiring it was the process of registering both retail and eShop games, always the same questions, the long waits for loading of the pages (especially for Europeans…like me, eh)…baaah, how anyone can feel compelled to register games, even if that means collecting them for some rewards? It's a torture. Thank God, those surveys are gone.
But a service like, where a made-up currency is used to be exchanged for items, is heavily based on its economy, i.e. how many points are needed to get the stuff available. Let's see how's it for U.S.
First of all, the gold missions
And now, a deeper look at the value you get by exchanging points for the current rewards. I want to thank maxcriden from GAF for his detailed analysis of the economy inside MyNintendo.
http://neogaf.com/forum/showpost.php?p=199853734&postcount=430
Discounts (Plat)

15% Discount on The Legend of Zelda: The Wind Waker HD (Wii U) – $7.35 value @ 750 point cost. You're spending 102 points per dollar.

15% Discount on Yoshi's Woolly World (Wii U) – $7.35 value @ 750 point cost. You're spending 102 points per dollar.

15% Discount on The Legend of Zelda: A Link Between Worlds (3DS) – $6 value @ 600 point cost. You're spending 100 points per dollar.

15% Discount on Animal Crossing: New Leaf (3DS) – $4.5 value @ 450 point cost. You're spending 100 points per dollar.

15% Discount on Super Mario 3D Land (3DS) – $4.5 value @ 450 point cost. You're spending 100 points per dollar.

Games (Plat)

My Nintendo Picross: The Legend of Zelda: Twilight Princess (3DS) – $6 value @ 1000 point cost. You're spending 167 points per dollar.

Wario Ware: Touched! – $10 value (based on DS VC prices on Wii U – this is the only DS retail game on 3DS) @ 1000 point cost. You're spending 100 points per dollar.

—

Discounts (Gold)

30% Discount on Splatoon (Wii U) – $18 value @ 140 point cost. You're spending 7.8 points per dollar.

30% Discount on Captain Toad: Treasure Tracker (Wii U) – $12 value @ 100 point cost. You're spending 8.3 points per dollar.

30% Discount on The Legend of Zelda: Majora's Mask 3D (3DS) – $12 value @ 100 point cost. You're spending 8.3 points per dollar.

30% Discount on Ultimate NES Remix (3DS) – $9 value @ 70 point cost. You're spending 7.8 points per dollar.

30% Discount on Punch-Out!! (Wii via Wii U) – $6 value @ 50 points. You're spending 8.3 points per dollar.

Games (Gold)


Donkey Kong Country Returns (Wii via Wii U) – $20 value @ 230 points. You're spending 11.5 points per dollar.

Super Mario 64 (N64 via Wii U VC) – $10 value @ 90 points. You're spending 10 points per dollar.

New Super Mario Bros. U DLC: New Super Luigi U (REQUIRES NSMBU, is not separate) (Wii U) – $20 value @ 170 points. You're spending 8.5 points per dollar.

Pikmin 3 Mission Mode DLC Map Pack 2: Battle Enemies Stages 7-10 (Wii U) – $2 value @ 20 points. You're spending 10 points per dollar.

Super Mario Land 2: 6 Golden Coins (3DS VC) – $4 value @ 35 points. You're spending 8.75 points per dollar.

Metroid Fusion (GBA via Wii U VC) $8 value @ 60 points. You're spending 7.5 points per dollar.

Super Punch-Out!! (SNES via Wii U VC) – $8 value @ 70 points. You're spending 8.75 points per dollar.
To summarise:
Each Platinum / Miitomo point costs around 1 cent*
Each Gold point costs between 11.11 and 13.33 cents*
*excluded Picross: TP's value due to being a result of a estimate of its own cost; excluded DKCR, since it's way off the scale compared the other games
Gold points being more than 10 times the value of Platinum points seems right, and the Platinum points value sounds reasonable as well: when you think about it, these are points you gain by spending the big amount of zero $ for Nintendo games…which represents a major difference with the older membership system, since you get rewarded with discounts on games even just for your activity.
The value for each Gold point is quite decent as well, it's around the same value offered by the points in the older Nintendo Network Premium. The older Wii U-only programme gave you the possibility to get a 5 $ discount code by gaining 500 points, with 8 points for 1 Dollar spent, thus 12.5 cents per point. Also, for now (and hopefully till the end of times), MyNintendo gives coins based on the MSRP of a game, it doesn't adjust for temporary discounts, just like NNP. Unfortunately, you don't gain Gold points by buying DLCs or themes on 3DS, but it's also true that themes are a Platinum reward, while DLCs are a Gold reward, they're not ignored in the overall economy of MyNintendo.
…Unlike games under 4.99$. Yeah, if you haven't noticed, you don't get coins if you buy a game which is priced just one cent under 5 Dollars. Sincerly, I'm puzzled by the complete lack of reward, not even 5 coins, which seems logical. Another uncoinvenience is that, of course, contrary to the Nintendo Network Premium programme, these points can't be spent for discount coupons usable for every game on the eShop, just for the games / DLCs / themes available currently. It's an unfortunate balancing: now you have the possibility to get games or themes or discounts even without spending actual money, but the selection is limited. To be honest, the current reward selection feature some decent deals, but nothing mindblowing. It's also true that this is just the beginning, and things will surely get better as time goes by, with a changing selection; some of the current awards have May 1st as the expire date, so we'll see what's next soon.
One of the most discussed concerns about MyNintendo points is that they expire in 6 months, a much tighter time period compared to Club Nintendo stars. Yes, the expire date is strict, but the selection, as just said, isn't static, it will be different by the next month already (at least partially); also, points can be earned in several ways, several times even per week. For example, each week, you can get 120 Platinum points just by using Nintendo web pages and eShop without using Miitomo and, again, without spending actual money.
By far, the current biggest area where MyNintendo falls behind Club Nintendo is that it doesn't get physical, due to the complete lack of physical rewards and no possibility (right now) to gain points by buying games at retail. Special physical rewards are some of the most remembered Club Nintendo items, they were something special for the biggest Nintendo fans, and it's disappointing to not see them now. Especially considering how they were mentioned back in October 2015's investors meeting, to then disappear the following meeting, when MyNintendo's initial plans were more laid out. The same for the non-consideration for the retail gaming market. But, at least, for the latter, there's hope. Right from the latest investor meeting
This slide shows how MyNintendo's current state is just the start (wasn't it obvious), and that will include more functions as time goes by (and as NX comes closer to release, I suppose), including friend management, cloud data and…perks at retail stores. And let's not forget a recent IGN interview with Bill Trinen, this tidbit in particular
http://www.ign.com/articles/2016/03/31/5-things-we-learned-about-miitomo-and-nintendos-digital-future#
Nintendo's New rewards Program Doesn't Reward Physical Purchases… Yet

"Initially, the focus is going to be on digital," Trinen says, "but we do have a lot of ideas for what roll out down the road for packaged goods or real world interactions. I think we'll continue to look at My Nintendo and how we can grow that as a rewards program, so that it really is trying to encompass all the different touch points of how people come into contact with Nintendo products."
So, "packaged goods" should be supported in the future, I'm going to assume starting from NX launch. Alongside all the other upcoming features that will complete MyNintendo (including those related to amusement parks).
So, what can we say about MyNintendo? Or better, the current MyNintendo? Yes, as just stated, we know this isn't even its true form (and that's it for Dragon Ball Z jokes for today), that the games' rotation will increase the attractivity, and I think we all hope that, starting from NX games, we'll see missions not just for apps. Current NCL's CEO, Kimishima, has restated that points will be gained with activity in both "games and apps", which doesn't sound contradicting with what stated in earlier meetings from him and, before his death, by Iwata, so missions for games should be a logical conclusion… but it's Nintendo, baby. Achievements with a bigger meaning than just showing off e-penises online sounds great. Still, the current MyNintendo is…a good base from where to start. I love the gamey aspects of the service itself and the website, the aesthetics, the secrets, how everything feels snappy and modern on different devices (and, I repeat, the design looks even better on a smartphone for unknown reasons), the points / money exchange is pretty fair. On the contrary, I don't understand the arbitrary lack of coins for smaller games (this is a factor that could affect their sales on the eShop as well), the new points' expire date is, despite the changing selection, a bit too tight, and it lacks physical representation. But these problems can't compensate for what MyNintendo does well, if not very well. It'll be very interesting to see where it goes in the next few months, especially when more features are added. And when NX comes. Oh man, when is NX going to be officially announced, by the way.
See you soon, world
P.S. #westandforfemalesingamingindustry