This generation has probably represented a slap in the face for Nintendo. Most of their beliefs from the Wii/DS era were shattered, especially about their power towards consumers, but there are so many areas where they failed to capitalised on or that saw a devastating collapse compared to the past, as well as factors they clearly undervalued / ignored. A rapid list?
The complete misreading of the market with Wii U and the partial misreading for 3DS
The inability to bring a steady lineup of games for both their consoles without way too long dry pauses: 3DS's really anemic first year, the need to re-focus their resources on the handheld in order to readjust the sales trajectory, thus giving to Wii U the shaft for a long time of its first year, the lack ofa decent amount of big 3DS Nintendo titles (especially in the West) in the off-year for Pokémon, etc.etc.
The concrete, real and unavoidable treat of mobile gaming to not just their handhelds (3DS is going to end its life with sales higher than 1/3 of DS's lifetime sales, but not that much…not bad per se, but not good historically), but to Nintendo itself due to the crossover between their classic audience and the mobile audience
The fact their online services, while growing and with a sparkle of interesting ideas (see: Miiverse), are still way behind what Xbox One and PS4 offer
How they tried, after releasing consoles that were innovative because they had a clear vision of what they wanted to achieve, to release consoles that were innovative just for the sake of it, lacking the aforementioned clear vision
Among all the markets they went down, the drastic fall in the UK market. Yes, the UK market is even more hit-driven than the rest of the gaming market, and they have a lot less affection for Japanese-style of gaming compared to even the US (let alone continental Europe), etc….but their numbers went way too down, their retailer presence is too low
And the list could still go on, it's true. So, finally time for the Nintendoom, right? I mean, there's absolutely nothing good coming from this generation of consoles, no?
…Well…
…I don't think so.
I think this generation is leaving something good for Nintendo. Call it a not-so-bad base from where they can start again. Yeah, I firmly believe that, among the tons of errors and mismanagement and falling market share, there's something that can be saved and actually used for the future. But what, exactly? Here's a list of what I consider "the good things in the Nintendoom". This list does not represent a ranking, even if some elements are more important than others. Well, as Joker would say…and here we go.
Splatoon
Splatoon is a great game, but it's what's behind this title that makes it special, as far as entering this list. This game represents what several Nintendo fans (and non-Nintendo fans) have been claiming for years: a brand new major IP (and I stress MAJOR, because Nintendo releases several new IPs each gen, but the vast majority of them are smaller / download only projects) filled with the classic Nintendo-take on a well known genre not part of the usual Nintendo lineup. Who would have thought, at the start of this gen, that the big N would have really released a competitive, online-multiplayer focused, service-like third person shooter? And, above all, that their first take on the shooter genre in years would've been so great, original, and, despite some classic, strange, Nintendo-like "misteps" with modern elements (why is the stage rotation still so limited per match?), such a well managed games-as-a-service? It warms the heart to see a major new IP, with a fresh look (here, it's appropriate to say fresh) to be such a huge success both commercially and in terms of satisfaction / engagement for players. I mean, just quoting what Kimishima said in the most recent investor briefing, a few months ago
https://www.nintendo.co.jp/ir/en/library/events/160203/02.html
For your information, the number of participants in Japan taking part in events inside the game called "splatfests" has been consistently increasing since the first one. There were approximately 690 thousand participants in the 10th "splatfest" held on January 23 and January 24 in Japan, which is an all-time high number.
For a title released back in May 2015, and considering how Splatfests (except for the upcoming – and I can't believe I can type this as an actual thing – Spongebob themed Splatfest – how is that even possible) are region-specific, it's a fantastic result.
Splatoon probably deserves an article on its own due to what it represents, what it accomplished. Still, it must be said it also represents a strong argument in favor of the continuation of a brand new idea for thinking about games
2. Nintendo Garage
Splatoon is, in fact, the biggest and strongest result of a new internal development programme in Nintendo, i.e. Project Gagage. As Miyamoto detailed, younger developers involved in "after-school" like moments where they express their ideas, and the ones that can become "bigger" see further development after further discussions between the different developers. This is, indeed, a good thing: listening to the younger workers bring on the table new ideas, new takes on already-established franchises or possibly brand new franchises altogether. It needs to be stated that the results, so far, are sort-of mixed, with a project halted (Project Giant Robot), Star Fox Zero as…divisive and Guard considered a bit better (it's also a smaller, download-only project, which helps its reception), and Splatoon as a huge win. And Splatoon itself represents why Garage can be great for Nintendo future. Sure, there will be ideas that fail to be considered interesting enough to keep on being developed, but that comes as a consequence of experimentation. It's by experimenting you get the Splatoons of this world, not by avoiding experimentation. And Callie and Marie do agree with me for sure.
3. All the partnerships
Nintendo working with different partners is not something we've never seen until this gen, quite the contrary, but in this gen we've seen them working in a slightly different manner for several of their collaborations: attempts to bring specific kind of gameplays / franchises / userbases, especially those possibly not that used to appear too frequently on Nintendo platforms. In a list:
Lego City Undercover / lego City Undercover: The Chase Begins | Nintendo x Lego | sandbox title with a special Lego look
The Wonderful 101 | Nintendo x Platinum Games | a different kind of action title
Bayonetta 2 | Nintendo x Platinum Games | mothafuckin' Bayonetta 2, no need to say more
Hyrule Warriors / Hyrule Warriors Legends | Nintendo x Omega Force | a Musou title in the world of Zelda
Puzzle & Dragons: Super Mario Bros. Edition | Nintendo x GungHo | bringing one of the biggest mobile franchises and one of the biggest traditional franchises together
Tokyo Mirage Session #FE | Nintendo x Atlus | A different take on the Fire Emblem franchise from a major developer in the RPG genre, Atlus
Pokken Tournament | Nintendo x Namco | The Tekken / SC team, after Smash Bros., create an arena (potentially competitive) fighting game featuring Pokémon
Not every one of them was a hit (sadly, Bayonetta 2 didn't sell nearly as well as it deserved, but the first one suffered a similar destiny too, given all those units sold at half the price very shortly after the launch…and sales in US should be in line with what did by the 360 version of the original, but still. Also, don't let me remind you of The Wonderful 101's sales, thanks), but Hyrule Warriors and Pokken Tournaments probably represent (thanks to their results) two brand new good pillars of Nintendo's lineup, blending their usual userbase with different takes on historical franchises, with serious potential of attracting (also) different userbases (especially on a better-selling console than Wii U). Expanding the lineup is always great: there are so many different people with different tastes, it's a pity to target just a specific kind of taste. And the industry as a whole – major publishers – is quite guilty of targeting especially the young-male audience…with Nintendo quite guilty of doing the opposite too, but these partnerships are a good step in the right direction.
These partnerships mean also brand new bridges, or reinforced older bridges, with several partners, which is always useful. See Platinum games working on Star Fox Zero / Guard by helping EAD in the development, for example.
So, yeah, I'm all for the partnerships, and I hope we're keeping on seeing them in the future. And I'd love to see more Western partnerships too, right for that expansion of the lineup I've already talked about. And yes, I'm not the only one wanting a Fire Emblem muosu or a Fire Emblem fighting game from Arc System Works.
P.S. I put a screen of Lego City Undercover because I see it as way too overlooked, while it deserves to be praised since it's a very fun, joyful game with great writing and "proud" to be a game (if you play it, you understand what I mean…go and buy it!)
4. There's another genre-specific userbase on a Nintendo console!
This is probably the weakest of the points in this post, but it seems Nintendo obtained to build, through different games and support to third party games, a specific genre, especially – mostly, given the vastly different support – on the handheld: the JRPG audience. To clarify, I'm talking about here in the West, where it's more difficult for Nintendo consoles to get "core" titles since Western third parties are quite hesitant (and not without reasons) to bring games. On 3DS, titles like Etrain Odyssey IV, Story of Seasons, Rune Factory 4, several Atlus releases saw high numbers for their franchises in US mainly. Now, their numbers are usually small, niche releases and all, but if even niche games can do well repeatedly, it's a good sign for the genre on the platform. And we saw that with the Fire Emblem franchise literally exploding. Think about it: Fates sold almost 400,000 units between retail and digital in its first month in US. That's an insane number for the JRPG market in general in US. Or Bravely Default, a game that sold so well (a million seller WW with a bigger contribution from the West, dat 200,000 copies sold in the first month) to make Square think again about their strategy. And they followed up that with several mid-level projects for PC and other platforms and bringing with Nintendo Dragon Quest VII and VIII in the West (finally)…and by giving the shaft to Bravely Second's development budget and promotion in Japan, meaning far lower sales for the sequel. Eh. Other examples? The first Project X Zone was a major surprise hit in the West, with over 250,000 copies (pretty good given its niche), Shin Megami Tensei IV's sales, helped by a great Nintendo x Atlus promotion in US, involving the now defunct Club Nintendo. Xenoblade Chronicles X is another big JRPG from Nintendo that had a positive debut (200,000 copies sold) back in December in US, and it's even more significant since it happened on Wii U, a console devoid of an even mediocre JRPG lineup due to the small retail third party support. Such a debut for a JRPG on a Nintendo home console has been missing since…Pokémon XD: Gale of Dark-no, slightly over 130,000 copies. Tales of Sympho-no, wait, that one was around 110,000 copies sold in the first month…I belieeeeeeeeeve it's been way too long since the last time we saw this happen. Yokai Watch seems to be having not big, but at least steady enough sales, and there's still Europe for it. By expanding this consideration to other, non-JRPG Japanese games, there's a pretty good case for the Monster Hunter franchise. So, yes, Nintendo consoles have definitely attracted successfully enough a specific audience, alongside their other classic audiences. Not that it wasn't possibly present already, but this gen seems to be when Nintendo cared the most about it. It adds up to the ground from where Nintendo starts. Hopefully, they keep their efforts on this front. Also, hopefully we see something similar (again) for the West. Or we'll see them abandoning the JRPG audience altogether. It's still Nintendo…maybe?
5. DLCs and services
It's something I've already briefly talked about when speaking about Splatoon, but I'll go a bit more in detail here. Nintendo had a rocky start with DLCs (New Super Mario Bros. 2 wasn't that great, and Awakening's DLCs have been criticised), but, as the gen went on, it seems they got a lot better with one of the most-controverse elements coming from the past few years: we all remember how shocked we were when those screens of Link and Villager and Isabelle in Mario Kart 8 appeared, right. Even more when the price for both DLC packs was unveiled, just 11.99 for 50% more content in Mario Kart 8. Allow me to repost an appropriate reaction, from GAF's user Cody_D165
http://www.neogaf.com/forum/showthread.php?p=127235342#post127235342
New Super Luigi U was a pretty good add-on content for New Super Mario Bros. U too, Hyrule Warriors's original release got highly praised for its additional content (thanks also to better prices than in Japan), Smash Bros. started adopting DLC characters / stages with prices in line with the industry standard, and the people appreciated, and the hype train continued for a long time even after the Wii U's release. Heck, now that the Smash Bros. NX rumours got stronger, the train almost restarted its engine, again. Plus, the aforementioned Splatoon free-content continuous support. And Mario Maker as well.
Mario Golf's Season Pass saw a bit more debate, but (at a first sight) I thought it was alright, given the on-cart content, the added content and (above all) both the entry price (29.99 for the game) and the season pass's price. I thought it was interesting to have a game with that kind of DLC support at a lower price than the max MSRP (reminder: handheld games have a 39.99 max MSRP, except for dat Atlus tax). This is a sign that Nintendo get (partially, at least) the times we're in, and uses DLCs and services pretty well in the most recent times. Hopefully, they continue to be on point
6. Nintendo and indies
This is a point that could be called "making the best of the worst times". In their worst time for Western support (support in general for Wii U), Nintendo decided that, well, those indipendent developers bringing small / mid (ah, the old A and AA market, we miss you on shelves so much) games to platforms weren't that bad. Be damned those harsh words from Reggie about "garage developers", it's time to embrace them! Nintendo Dev Framework, Unity deal, Unity on New 3DS, free dev kits for specific developers, a specific way to curate the eShop main page (i.e. major / quality indie releases are featured), support before and after release even from Nintendo itself. We all know how much Nintendo supported Shovel Knight, and this translated to 3DS and Wii U being 2nd and 3rd best platforms for the games, sales wise worldwide (behind only the PC) and great recognisition for Yacht Club games' creation, but we have other cases of indie games getting highlighted by Nintendo, like Fast Racing Neo and Steamworld Heist. Remember how Nintendo was the first hardware company to announce a Humble Bundle for consoles. Or the Nindie @ Night event back last Summer. Shovel Knight's amiibo is still the only amiibo from a third party developer, and with over 180,000 figurines sold WW, it's a success for the company (I'll be honest, though: I don't like how co-op mode on Wii U is strictly linked to the amiibo; dat paywall). And their policies and behaviour are creating a costantly improving environment for indies on both platforms (especially Wii U, thanks to its power). Complete support is still not possible because installed base for Wii U and power for 3DS are insormontable obstacles for several indie developers / games, but there are costant improvements, and I'm sure they will continue in the future. More games = bigger lineup = more possibilities of different tastes to be satisfied = more reasons for people to buy the console, etc.etc. Sony is still the indie champion, it's unquestionable, but Nintendo is not that behind, potentially. Let's all pray our indie lord, Damon Baker.
7. There's still some Nintendo power in the world
As I said earlier, Nintendo's market strength is not as big as in the Wii / DS generation…but even in this gen, we saw glimpses of that. Think about the 3DS itself: despite the (ongoing) difficulties coming from the mobile market, the lack of major Western third party support, contrary to PC/PS/Xbox consoles, and how Nintendo fucked up its launch (and some dry periods, like last year's lack of very major, tentpole releases at the end of the year), there's well over 30 millions of Nintendo 3DS consoles shipped just in the West, and major (also non major) Nintendo games still bring big sales, with lots of multi-million sellers from this generation alone. Wii U showed this as well, even if on a quite smaller scale, and especially after Mario Kart 8's release, which really seems to have rekindled the fire of Nintendo's fans for the console. Also, amiibos. Their big results so far, between figurines and cards, show how Nintendo's image is still present in the public, and amiibo can bring gaming elements to the table too (just, don't be like Shovel Knight's co-op paywall, or Mario Party 10's problematic limited content, or like Splatoon's missions: way too big content to be left only behind figurines).
8. They seem to be reacting
(ah, right, where the hell is a new Punch Out? The Wii game was great!)
When you get a slap in the face like Nintendo did, there are two different ways of answering to that: keep on being stubborn and thinking "No, I'm not wrong. It's the kids who are wrong", or stopping crying and thinking that something must be changed. Now, change is scary, it can be both great or awful, but, so far, I'm satisfied by hearing most of what Nintendo is promising (and already bringing?) in the future: not just NX, but MyNintendo and the Nintendo account (you can find an analysis of the new membership service's right on this blog, if you're interested – https://theflyingthoughts.com/2016/04/11/first-analysis-of-a-new-membership-system/ – ), using mobile as a way to bring their franchises to a bigger audience while trying to attract those users to their "premium" experiences, and their overall plans for using their IPs outside gaming (thank God), between amiibos, licensing (movies and cartoons, please), the deal with Universal Parks (a themed Nintendo amusement park / attractions? Oh my!) and their major internal restructuring, but handheld and home R&D teams now under the same roof, and a new building for that. It's true, some of the already-mentioned points could have been included here, but I thought the wave of change itself deserved a separate mention for its importance. Or, at least, their apparent importance. Because, as we all know, words can be misleading, and we want to see actions, especially after years and years of words in a specific sense without as much as hoped in reality. I don't want to be as cynic as way too many people out there, but it's right to be doubtful about these changes; however, I think there are already signs that the changes, this time, are present, happened or happening, with some actions already in our hands (Miitomo and, again, MyNintendo and Nintendo account, even if not in their final form). I'm hopeful and scared at the same time, it's a strange sentiment. And that's why, despite what I said…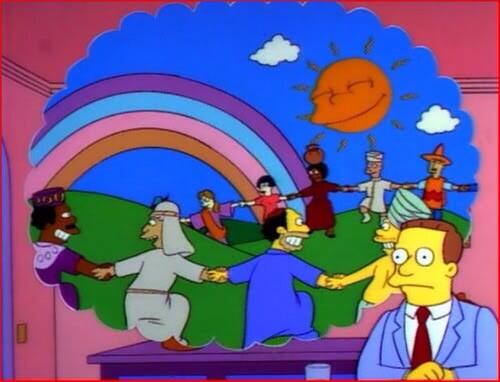 No, I still can't bring myself to believe this dream (that's not representing a world without lawyers, nonono…it's representing a world with a great, relevant Nintendo again) will surely, 100% become reality in the next years. I've been positive for most of this piece, but Nintendo as a steep hill to climb: all the factors I've listed at the start are strong and present, and it will take a lot to make them go away, or at least lessen to acceptable levels. At the same time, I don't think they start exactly from 0 as lots of people do, there is a base from where to restart, as well as changes happening. This year (heck, the next few days probably) will be very important for Nintendo and its future and it'll be interesting (and heart-warming / heart-wrenching depending on the outcome) to see what's going to happen. Just, it'll be sad that the man that drove the company during the Wii / DS times, as well as Wii U and 3DS and who, after all, started the wave of changes, is not here anymore to see with its own eyes what's going to happen to a company that he deeply loved. And this is something no market share growth, no great console / software sales, no "winning list warz" can compensate, unfortunately.
See you soon, world
P.S. #westandforfemalesingamingindustry